Sema4D Blockade Safety and Brain Metabolic Activity in Alzheimer's Disease (SIGNAL-AD)
Clinical Trial Evaluating the Safety and Efficacy of Pepinemab in Patients with Alzheimer's Disease
Vaccinex seeks to build clinical programs that beneficially impact patient care. With that goal in mind, we are developing a pipeline of novel candidate therapeutics that we hope will improve upon existing therapies and offer patient treatment options that improve their quality of life.
Trial Purpose
The purpose of the study is to investigate safety, tolerability, the effects on cognition and brain metabolism of pepinemab in people with early AD dementia (early AD). The primary hypothesis being tested is whether pepinemab will be safe and provide benefits in clinical assessments of cognition and in brain metabolism as measured by FDG-PET.
Vaccinex's approach is to potentially reprogram the underlying disease pathology that is driven by neuroinflammation with concomitant loss of normal important support functions of glial cells, such as astrocytes and microglia. (Journal of Neuroinflammation publication, 2022)
Vaccinex's drug, pepinemab, has previously been tested in individuals with Huntington's disease, another devastating neurodegenerative disease with symptoms including cognitive impairment. (Nature Medicine publication, 2022)
Trial Details
About the Trial
This is a randomized double-blind, placebo-controlled, parallel-group study of pepinemab in early AD dementia defined as MCI and mild Alzheimer's dementia. The study is 40 weeks in duration, including a safety and efficacy evaluation 4 weeks after the last dose of study drug. Subjects will be randomized to receive either pepinemab or placebo every 4 weeks by intravenous infusion. The primary objective is the safety and tolerability of study drug. Key secondary objectives are change in cognition determined by CDR-SB and ADAS-cog13 as well as effects on brain metabolism as assessed by [18F] fluorodeoxyglucose (FDG)-PET in the resting state.
Phase
Phase 1b/Phase 2
Dates
Actual Study Start Date
July 22, 2021
Estimated Primary Completion Date
December 31, 2023
Estimated Study Completion Date
December 31, 2023
Sponsor
Vaccinex, Inc.
Collaborators
Alzheimer's Drug Discovery Foundation
Alzheimer's Association
Products
pepinemab
placebo
Trial Design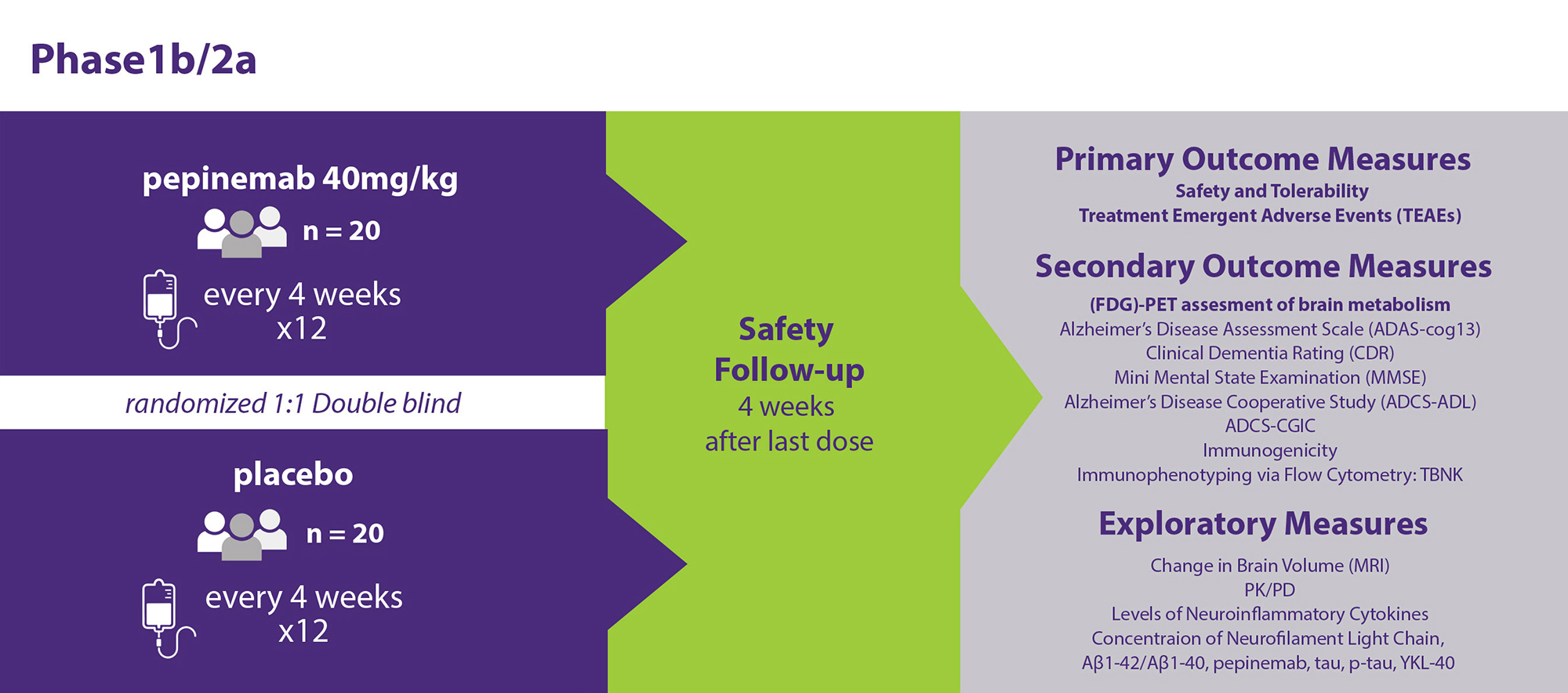 Trial Locations
Only a qualified healthcare professional can determine your eligibility.
However, this information may be useful in starting a conversation with your doctor.