A Study in Subjects with Late Prodromal and Early Manifest Huntington's Disease (HD) to Assess the Safety, Tolerability, Pharmacokinetics and Efficacy of Pepinemab (VX15/2503) (SIGNAL)
Trial Purpose
The purpose of this Phase 2 study was to evaluate the safety, tolerability, PK, and efficacy with respect to HD cognitive assessments and Clinical Global Impression of Change of pepinemab (VX15/2503) in participants with late prodromal and early manifest Huntington's disease. A comprehensive analysis of results was published in Nature Medicine in 2022.
There are currently no approved disease modifying treatments that impact disease progression in HD.
Vaccinex's approach is to potentially reprogram the underlying disease pathology that is driven by neuroinflammation with concomitant loss of normal important support functions of glial cells, such as astrocytes and microglia. (Journal of Neuroinflammation publication, 2022)
About the Trial
This study is now complete. All patients who enrolled in the SIGNAL trial were randomized 1:1 to receive pepinemab or placebo once each month by intravenous infusion. Throughout the study, participants were assessed for clinical features of Huntington's disease, as well as brain imaging and PK/PD assessments. (Nature Medicine, 2022)
Trial Details
Phase
Phase 2
Dates
Actual Study Start Date
July 2015
Completion Date
August 2020
Estimated Publication Date
2022
Sponsor
Vaccinex, Inc.
Products
pepinemab
placebo
Trial Design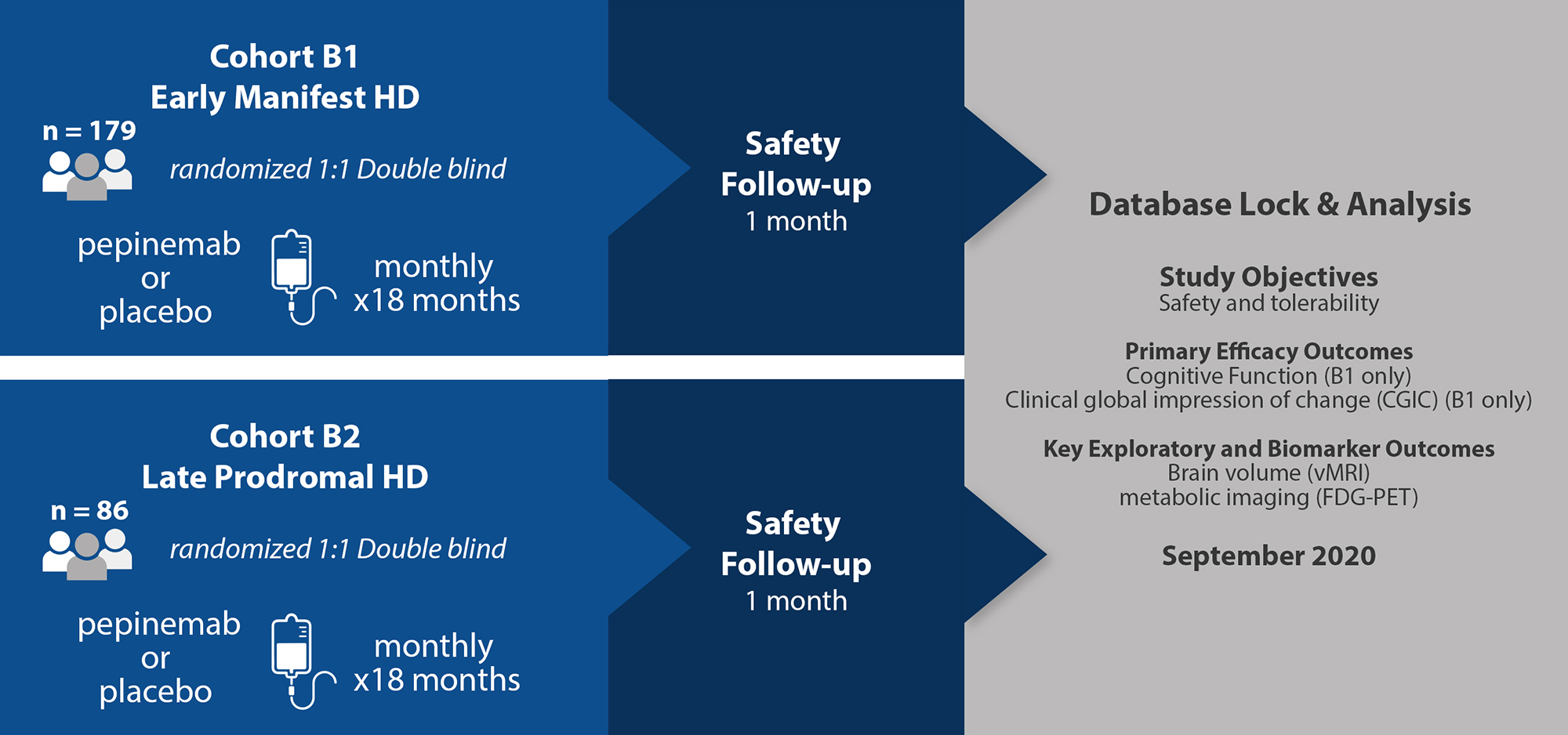 Only a qualified healthcare professional can determine your eligibility.
However, this information may be useful in starting a conversation with your doctor.